THE ART OF NUDE PHOTOGRAPHY
ANDREAS H. BITESNICH'S MASTERCLASS OF CLASSIC STUDIO LIGHTING
ANDREAS H. BITESNICH'S STUDIO MASTERCLASS
OF ART NUDE PHOTOGRAPHY
Andreas H, Bitesnich is one of the world's most famous photographers of the male and female nude. His images
are instantly recognisable by their simple aesthetic and perfect synthesis of beauty and form. His work has been
published and exhibited internationally, and his iconic images are familiar to anyone with a passion for
photography of the human body.


THE ART OF NUDE PHOTOGRAPHY is a lavish production specifically designed for photographers of the nude, who aim
for the same perfection in their own work. With a range of sets from the sophisticatedly simple to the coolly complex,
photographers of all levels can develop and hone their skills in lighting, set construction, and working with models
and stylists. Each episode ends with a look into the world of digital raw conversion, presenting effective possibilities to
change the look and mood of the final images.

With almost two decades of experience teaching nude photography workshops, Andreas H. Bitesnich now brings his
knowledge to a wider audience. Join Bitesnich behind-the-scenes on the sets of 9 main productions, each including
a wealth of technical details, and a specially recorded commentary.
GET INSPIRED – GET
CREATIVE
» 9 beautifully-filmed shoots with professional female and male
models
» In-depth visual and audio guide
» 3-D animation recap
» Step-by-step guide to basic digital raw conversion
» Workshop designed for photographers of all levels
» Final peg images from each shoot with camera-setting
information
» Download in full HD quality
» Also available as a deluxe 2-DVD set in PAL and NTSC
DIRECT DIGITAL DOWNLOAD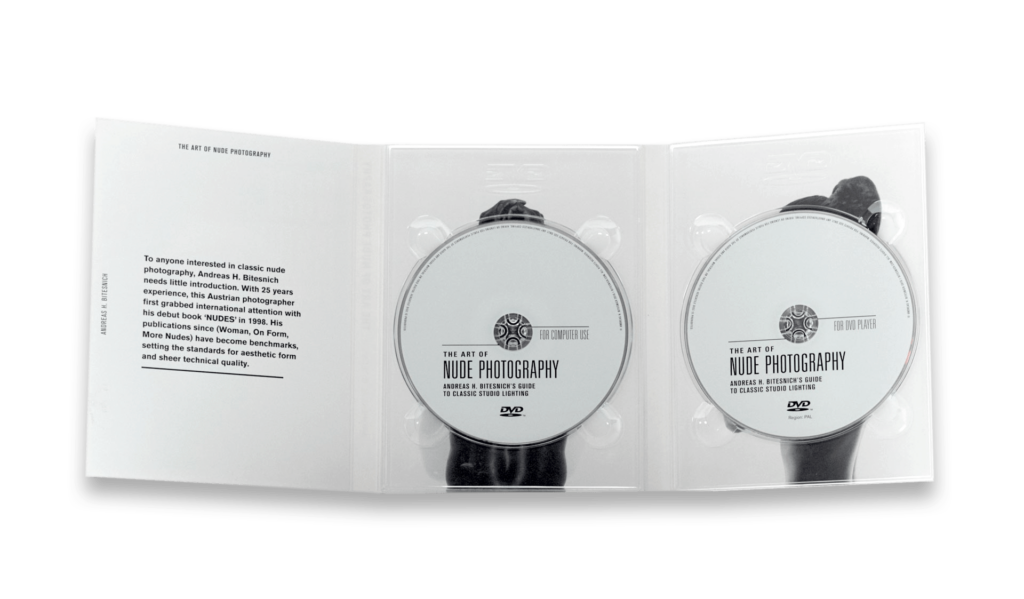 ALSO AVAILABLE AS DELUXE 2-DVD SET
DVD PAL version
199,00 EUR
» For DVD player

» For computer use

» Free shipping worldwide

» Available in PAL or NTSC
DVD NTSC version
199,00 EUR
---
All the original works of Andreas H. Bitesnich are copyrighted and may not be reproduced elsewhere without prior written permission. Atelier Andreas H. Bitesnich studio@bitesnich.com.Safety is of the utmost importance throughout any shoot inspired by this Photographic Masterclass. Anyone using this Masterclass (such as photographer, assistant, model or such like) shall at all times adhere strictly to all relevant safety regulations and principles and take all necessary precautions to this end. The use of lighting and all other electrical devices shown in these films is for illustrative purposes only, and should not be applied or copied without due care. Any damage or accident occurring as a result of using this Masterclass is entirely the responsibility of the user(s). Any dimensional specifications mentioned in this film are of indicative nature only and should be adapted to the users' specific needs and circumstances. This Masterclass is for educational purposes in the field of artistic nude photography. It contains sequences with nude female and male models. Any persons who may feel offended by such nudity, or persons forbidden due to legal restrictions should not view these films or images. This Masterclass is not for distribution or use in countries where the depiction or viewing of nudity is potentially deemed to be a criminal offence.